Our Services
Chiropractic care is a proven practice in providing relief from a wide range of pains and aches and in improving the quality of life. At Vito Chiropractic Center, we provide chiropractic adjustments and associated therapies to manage, improve, and treat many conditions. Explore the different conditions and pains that we commonly help our patients manage and the therapies that we use.


Chiropractor Services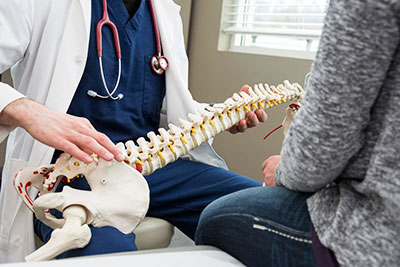 We specialize in providing chiropractic care to improve and manage a wide range of conditions. This includes back pain, neck pain, disc herniation, headache pain, whiplash, fibromyalgia, TMJ jaw pain, and many other pains and conditions. Our chiropractic adjustments and related therapies can help you with a variety of physical ailments and conditions. Besides providing pain relief and improving conditions, our practice also strengthens your joints to meet the demands of everyday activities. The process of alignment is also crucial to the process of effective healing.

The benefits of chiropractic care go beyond the physical benefits. They also improve the autonomic nervous system and the para-sympathetic nervous system. Our care services cover all aspects of the treatment and recovery phase including the Relief Care, Corrective Care, and Maintenance Care stages. This helps us ensure that our patients recover and heal completely from their health problems. Our practice helps our patients find relief from pain, prevents further injuries, improves physical performance, prevents falls, and assists with healthy aging. Read More About Chiropractor Services »


Back Pain Relief
We provide back pain relief through chiropractic adjustments, allowing you to regain control over your lifestyle and overall wellbeing. We use a variety of techniques to help provide effective relief from back pain, also addressing the underlying cause in the process. This includes spinal manipulation, mobilization, a series of physical exercises, and self-care guidance principles. We help improve mild to severe back pain, including acute low-back pain. Whether you have recently developed back pain or have not been able to find satisfactory results with other treatments, we can help you lead a painless and more active lifestyle.

Many of our patients have found significant benefits from chiropractic care, physical therapy, and acupuncture when they were suggested by their primary care provider to take injections or undergo surgery. Spinal manipulation or manual manipulation is one of the most effective techniques in improving and managing back pain. It focuses on improving spinal movement which helps reduce muscle tightness and alleviate nerve irritation. Read More About Back Pain Relief »


Neck Pain Relief
The neck is more vulnerable to injury and pain because it handles the weight of your head and moves in different directions. There are many underlying conditions that can cause pain in the neck, including pinched nerves, osteoarthritis, bone spurs, worn joints, injuries, herniated discs, and muscle strains. We help our patients find neck pain relief caused by all these different conditions. Chiropractic care is a non-invasive, non-addictive, and safe treatment methodology.

The treatment focuses on reducing spine restrictions and misalignments. The benefits include reduced pain and inflammation, and improved joint functioning. We create a custom treatment plan after conducting a thorough assessment and diagnosis. This involves locating areas on the spine with restricted motion, assessing your gait, changes in spinal alignment, and studying your body mechanics. Our award-winning chiropractor will also study your medical history and you may be required to take X-rays and MRI before we create your treatment plan. Read More About Neck Pain Relief »


Headache Pain Relief
Headache pain is quite common and almost everyone suffers from it at one point or the other in their life. We treat all kinds of mild to severe headache pains associated with tension, cervicogenic, and migraine headaches. Chiropractic care is different from most conventional treatment methodologies that focus only on treating the symptoms. Our practice combines a wide range of therapies including spinal manipulation, active and passive exercises, and massage. Our services help manages headaches, treat the underlying conditions related to joint and muscle problems, and prevent them from returning.

There are proven chiropractic adjustments and therapies for treating different types of headaches. When it comes to tension headaches, we can use soft tissue therapy, low-load craniocervical mobilization, stress management, and stretching. Spinal manipulation, joint mobilization, and deep neck flexion exercises are effective in improving cervicogenic headaches. Neuromuscular massage and multidisciplinary care intervention including stress management, physical exercises, and relaxation methods are used for managing migraine headaches. Read More About Headache Pain Relief »


Disc Herniation Relief
Disc herniation is often accompanied by acute pain. It can be caused by many factors such as improper heavy lifting techniques, improper movements, car accidents, stretching, and aging. We provide chiropractic care that can provide you disc herniation relief and lead a healthier and more active lifestyle. We have over 25 years of experience in helping patients find pain relief and lead a better life while having this condition. Our thorough assessment will involve checking your reflexes, muscle strength, and sensation before creating a customized treatment plan. This can also include an imaging test and studying your posture.

Herniated discs require a gentler approach to chiropractic adjustment. The treatment therapy typically includes gentle adjustment of the affected area of the spine and stopping the disc from pressing a nerve. We can also fix misalignments, thus helping correct improper nerve communication and inflammation. Our treatment not only provides immediate relief from pain but also improves your quality of life in the long term. Read More About Disc Herniation Relief »

If you need more information about the type of chiropractic care we provide, feel free to get in touch with us at Vito Chiropractic Center. Call us at 570-341-7062 to discuss your pains and physical problems and how we can help overcome them. You may also write to us using this Online Form and we will get back to you as soon as possible.